Ta-dah!
Welcome to our super-duper new website!
Finally, the moment we've all been waiting for – the launch of our brand new, all-singing, all-dancing website! We've laughed, we've cried, and we've emerged with a massive grin across our faces. If you've allowed yourself a quick look around our new online home, you'll see why – it is, quite simply, a true testament to our 27 years' experience!
For those of you who are new to Positive and what we do, we thought we'd dedicate our first blog post to giving you a concise rundown of our shenanigans. There are many strings to our bow, but don't fret – we're pretty good at explaining it loud and clear without too many deviations!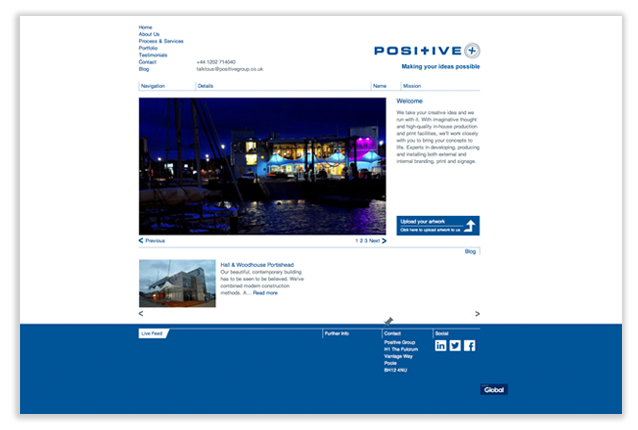 First things first – we 'do' all things print and signage. From the initial consultation through to production and installation, we've got our Positive fingers on the visual communications button.
Because we work with big brands and creative agencies, we've come across some truly weird and wonderful projects. And we must admit – the more 'out there' they are, the better. Projects that require a bit of head scratching and mind bending really get our juices flowing. They also get the most out of our inventiveness and 'can-do' attitude, which has become somewhat of a Positive hallmark…
So, how do we go about our day's work?
We start right at the beginning by picking our client's brain. The initial consultation is our chance to extract the idea, understand the specifics and take on board the budget and deadlines. We then move on to the Concept Origination stage, which involves coming up with a solution that's on brief, in budget and true to the client's original vision.
After prototyping our way to perfection, we get to put it to production. With a complete in-house production facility, we're able to keep our beady eyes on the ball, nitpicking every last detail. And finally, with a happy client and an excited Positive team, we get to install our hard work…the moment everyone's been waiting for!
So that – in a nutshell – is what we're all about. If you'd like to delve a bit further into what we do and what we've done, have a poke about our website. You'll find loads of interesting projects in our portfolio, or take a look at our case studies for a more detailed rundown of our services in action.
This is just the first of many blog posts, so we hope you'll be back to read more about what we're getting up to, including some fantastic offers and promotions. Watch this space!